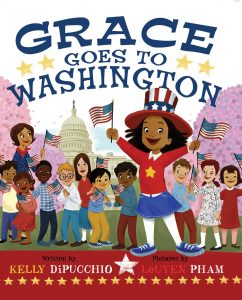 The Center for American Women and Politics (CAWP) wants kids to hear a great story that teaches an important lesson about leadership. To make sure that happens, CAWP is asking women lawmakers around the nation to read the story to girls and boys in their districts. With generous support from the Hess Foundation, the Honorable Constance Hess Williams, and Comcast NBCUniversal, we've sent a free copy to every woman state legislator, member of Congress, governor, and statewide elected official! (Others can purchase copies here.)  After reading the story to children, the elected women will donate their copies to their school libraries.
Grace Goes to Washington tells a story about a girl who takes a field trip to Washington, DC with her class. Exploring government buildings and national monuments, Grace feels closer than ever to her dream of becoming president someday. But she and her classmates have a lot to learn about what it means to serve the needs of the people, especially when the people want different things!
A sequel to Grace for President, Grace Goes to Washington, written by Kelly DiPucchio with illustrations by LeUyen Pham, also provides an easily understandable overview of the three branches of government, illustrates checks and balances in an accessible and fun way, and teaches elementary-age children the value of kindness, courage, and independent thought.
Resources for Your Reading Day