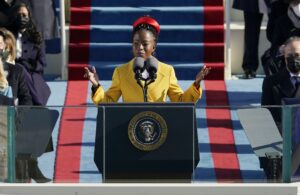 The 2021 Presidential Inauguration was a historic day for many reasons, and a young woman, Amanda Gorman, emerged as its shining star. Gorman is the youngest inaugural poet in U.S. history and her inspirational inaugural poem, The Hill we Climb, was a timely call to action and moment of healing for the nation.
The 22-year-old poet began her road to Inauguration Day in high school, when she was chosen as youth poet laureate of Los Angeles in 2014 and continued throughout her college career when she was named the first National Youth Poet Laureate in 2017. Gorman teaches girls to lead by example and creates work that inspires them to do so. She has two forthcoming books that are accessible for young readers: The Hill We Climb: Poems, which includes her historic inaugural poem, and a lyrical picture book, Change Sings: A Children's Anthem, which is illustrated by Loren Long and encourages the next generation of leaders to make a difference in their communities and the world. Both books are featured on CAWP's Teach a Girl to Lead book list, an excellent source for K-12 books that are focused on women's political history and public leadership in the US.
While we wait for Gorman's future run for President of the United States in 2036, we anticipate her continuing to lead through words that galvanize and unite us all.