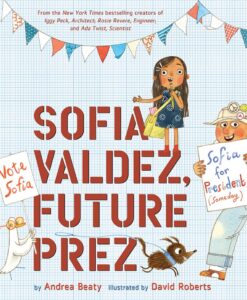 Dear Elected Leaders:
We hope everyone is staying safe and healthy. We wish your communities the best, and we are more grateful than ever for your public service and leadership.
The Center for American Women and Politics (CAWP) launched the Teach a Girl to Lead® Reading Project with the goal of making women in public leadership visible to the next generation. We want to inspire girls in grades K-4 to follow in the footsteps of women leaders like you and help boys grow up with more inclusive ideas about who can lead.
As part of our annual Reading Project, with generous support from the Hess Foundation, the Honorable Constance Hess Williams, and Comcast NBCUniversal, this winter we sent copies of Sofia Valdez, Future Prez to every woman state legislator, statewide elected official, and member of Congress. We encourage you to host a virtual story time for the students in your school districts. For inspiration, check out this virtual reading by Representative Ashton Clemmons (NC). We completely understand that circumstances may hinder your participation this year. If you are unable to do a virtual reading, we hope you will donate this book to your local school library so that children will be able to enjoy it in the future.
Here are action steps to get you started:
Contact an elementary school in your district and offer to read Sofia Valdez, Future Prez virtually to their students.
Announce your virtual story time on Facebook, Instagram, and/or Twitter. Don't forget to tag us on Facebook (@womenandpolitics), Instagram (@womenandpolitics) and Twitter (@cawp_ru) and use the hashtag #teachagirl. Ask the school district if they would send an announcement out to parents to let them know the reading is happening.
Use this discussion guide to prepare for your "visit" and be sure to tell the children a little about your own experience as a public leader. We also have discussion guides for our previous Reading Project selections, Grace for President, Grace Goes to Washington, and If I Were President.
If you are comfortable publicizing this virtual reading with local media, download our sample media advisory or press release. For additional information, please feel free to contact CAWP's communications specialist, Daniel De Simone.
If you would like to purchase additional copies of the book or any of our Reading Project selections to donate to your schools, you can order on Amazon or your local independent bookstore.
If you have already participated in the project this year, we would love to hear from you and share your pictures!